SEMINAR
The State Key Lab of
High Performance Ceramics and Superfine Microstructure Shanghai Institute of Ceramics, Chinese Academy of Sciences
中 国 科 学 院 上 海 硅 酸 盐 研 究 所 高 性 能 陶 瓷 和 超 微 结 构 国 家 重 点 实 验 室

Structural Analysis of Functional Materials: Complexity and Challenges
刘 芸
澳大利亚国立大学
时间:2019 年 5 月20日(星期一)上午 9:30
地点:嘉定园区F楼4(2)会议室
欢迎广大科研人员和研究生参与讨论!
联系人:易志国(69163723)
  报告摘要:
  Properties and functions of materials are determined by the structure and its evolution on every relevant time, length, field and energy scale. To understand these, neutrons diffraction technique play a critical role in providing important insights into the structure of polar functional materials as it responds to stimuli. In this talk, I will present a summary of recent progress in neutron scattering studies of piezoelectric, anti/ferroelectric and multiferroic materials, with a special focus on the investigation of neutron diffraction conducted under different fields (e.g. temperature, magnetic/electrical field and pressure). I will also report structurally dynamic behaviours of zeolites and metal-organic frameworks (MOFs) investigated by using time-of-flight inelastic neutron scattering. I will then discuss the challenges and technical difficulties to attain precision neutron analyses, and give my personal perspective on the use of neutron scattering technology for material study in the future.
  报告人简介: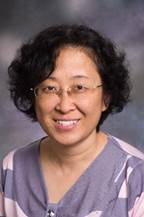 Yun Liu is a Professor at the Australian National University leading a "Functional Materials Research Group" at the Research School of Chemistry. She is a materials chemist with a strong focus on crystal chemistry, properties characterisation and the designed modification of solids to achieve new or improved properties for industry applications. She has published over 221 peer-reviewed journal papers, including papers published in Nature Materials, Advanced Materials, Advanced Functional Materials and Chemistry of Materials. She held 27 patents.
  Yun Liu received her PhD degree from the Xian Jiaotong University in 1997. She has since held the AIST Fellow and STA Fellow in Japan (1998-2001), and Australian Research Council (ARC) QEII Fellow and Future Fellow (2006-2015) in Australia. She services the Asian ElectroCeramics Association, Asia-Oceania Neutron Scattering Association, the Australian New Zealand Neutron Scattering User Group and Materials Australia. She is a Fellow of the Australian Institute of Physics. She is the winner for the TechConnect Global Innovation Award in 2018 and Banksia Sustainability Award (Innovation) in 2013. She is and the finalist for "The Australian" -"Innovation Challenge" in 2013.